Welcome to Cardews of Oxford
Cardews is located in the centre of historic Oxford in the famous Covered Market, which was established in 1774 to provide a permanent home for the city's untidy market stalls. As the oldest established supplier of freshly roasted coffees and fine teas in Oxford, we sell to customers world wide; our business now expanded to further locations in Oxfordshire and Northamptonshire.
Cardews offer a wide range of pure and specialty coffee and teas and through our direct relationships with coffee and tea growers, we offer competitive prices for the highest quality products around the world.
In these times of change, we maintain our well-established business on standards of fairness and reliability with a commitment to provide the best quality, value and ethical choices for our customers.
We continue to search for environmentally sustainable solutions for our business and have invested in manufacturing our own range of large leaf pyramid tea bags which are fully compostable using bio-degradable materials. Our tea and coffee products and blends are packed in our own warehouse using Eco-friendly sustainable materials wherever currently possible.
View our Products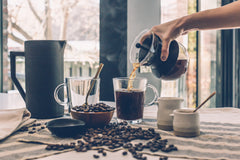 Free UK standard delivery on orders over £35.00
During December we are expecting to experience delays to the advertised delivery times. Please check the Royal Mail website for updates.